Today, we have a special treat for all the sweet readers out there.
Iris Blobel
and
Astraea Press
are making
Journey To Her Dreams
FREE for the next 24 hours. How awesome is THAT?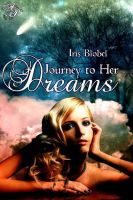 Blurb:

Would you travel around the world to uncover the reason for your dreams?
Hollie Anderson does. A young woman from Tasmania who lives on a farm just outside Launceston, she has got good looks, likes her job and loves to hang out with her friends. She should be happy, right?
But it's a recurrent dream that throws her daily life into chaos and takes her on a journey to Ireland. While on her quest for answers she meets Sam in Dublin under unusual circumstances and both women, so different in many ways, find out they have one thing in common - and it changes their lives forever.
For your free copy of Journey To Her Dreams please go
HERE
and enter code XQ27P during checkout.
For more about Iris and her works please check out her
blog
Here are just a few of the comments about Journey To Her Dreams
Review by Frank Nolan, 99.9 VoiceFM
Ballarat writer Iris Blobel's first book was titled Sweet Dreams Miss England and was set in London and Dublin. She returns to the subject of dreams in her recently published second novel Journey to Her Dreams. The story is set in two small islands – Tasmania and Ireland- and involves the lives of two young women. Hollie lives with her father on a farm near Launceston while Sam lives in Dublin. A recurrent, disturbing dream inspires Hollie to visit Ireland and the two women meet in extraordinary circumstances, with momentous effect on both of their lives.
A cleverly constructed plot, believable characters and lucid writing make Journey to Her Dreams enjoyable romantic fiction reading. It is available now as an e-book, and will apppear shortly in paperback.
Wilma Bass:
This was a great story and I found the characters very interesting..I particularly thought Davo emerged as a complete surprise and added to the mystery. I was totally surprised by the ending of the story and very happy for everyone. I truly loved this book!
Sigrid MacDonald:
Journey to Her Dreams is a wonderful page-turner about two women whose lives intersect. The characters are likable, the background is unique, and the story is suspenseful. I really enjoyed it.
"hazelgems" (amazon.com)
Journey to Her Dreams is an enjoyable novel that will captivate your attention. Iris Blobel creates characters in her novels who stay in my mind after I have finished reading the story. Her characters are created with detailed description, and in this novel I discovered that I had immediate emotional reactions to the main characters. The story is intriguing, and I felt like I was a traveling companion on the journey. I highly recommend this book.
Margaret (Literary Chanteuse)
This is a beautifully told story that takes you on an emotional journey from Australia to Ireland. The author puts you into the shoes of these characters as you go through their quest to find love, new beginnings and a few surprises along the way.
You're still here? Good Gravy, what are you waiting for? You need to jump on this awesome story while you can.
Special thanks to Iris and Astraea for offering up this read to the readers for free